(All paper presentations will be on zoom platform)
2nd International Conference on Computing Advancements - ICCA 2022
"Age of Computing and Augmented Life"
Welcome to ICCA 2022
The goal of the International Conference on Computing Advancements (ICCA 2022) is to bring together a convergence between academics and industry researchers thus establish itself as a major international conference in Computer Science. The emergence and applications of multifarious modern age computing are augmenting our lives every day. The ICCA 2022 is being organized by the Department of Computer Science, Faculty of Science & Technology (FST), American International University-Bangladesh (AIUB). The conference will be held on 10-12th of March 2022 at the heart of Dhaka, Bangladesh, at AIUB campus.

All accepted, registered, and presented papers and posters (extended abstract) will be submitted to ACM Digital Library for publication. The approved ACM ICPS ISBN number assigned to ICCA 2020 was 978-1-4503-7778-2.
ICCA 2022 Program Schedule
Paper Presentation Schedule
Call For Paper
The International Conference on Computing Advancements (ICCA 2022) welcomes and encourages the academics and IT industry to submit their novel, original, and unpublished research work in various fields of Computer Science, Information and Communication Technology.
Applied Computing (APP)
Technology Trends
Big Data
Blockchain
Bioinformatics
Deep Learning
Digital Transformation
Distributed and parallel systems
Edge Computing
Internet of Things (IoT) 
Smart Cities
Quantum Computing
Robotic Process Automation (RPA)
Software Engineering 
Software Architectures 
Software Processes and Methodologies 
Model-driven software engineering 
Software Quality Assurance 
Software Maintenance and Evolution 
Software Testing 
Web Engineering and Web Services 
Software Reusability 
Formal Methods of Software Engineering 
Software Engineering Education and Training 
Computing and Algorithms 
Approximation Algorithms 
Cloud Computing 
Computational Complexity 
Distributed Algorithms 
Graph Theoretic Algorithms 
Grid Computing 
High Performance Computing 
Mobile computing 
Online Algorithms 
Parameterized Algorithms 
Randomized Algorithms 
Social Computing 
Artificial Intelligence (AI)
Intelligent Systems
Agents and Multi-agent Systems
Ambient Intelligence
Expert Systems
Fuzzy Logic
Information Retrieval
Natural Language Processing (NLP)
Neural Networks
Recommendation Systems
Speech Processing 
Machine Vision 
Augmented Reality 
Computer Graphics 
Computer Vision 
Image Processing 
Medical Imaging 
Mixed Reality 
Robotics 
Video Analysis 
Virtual Reality 
Data Science 
Autonomic Computing
Big Data Open Platforms 
Data Mining 
Energy-efficient Computing for Big Data 
Heterogeneous and Multi-structured Data Integration 
Real-Time Big Data Analytics 
Threat Detection using Big Data Analytics 
Human-Computer Interaction (HCI) 
Adaptive Control
Biometric Modeling 
Case-based Reasoning 
Cognitive Models 
Computer Animation 
Games 
Human-Robot Interaction 
Knowledge Representation 
Ubiquitous / Pervasive Computing  
visualization on handheld devices 
wearable computers 
Affective and aesthetic interfaces
Automotive User Interfaces 
AR/VR interfaces
Brain-computer interfaces 
Crowd computing and human computation 
Speech-based interfaces 
Eye-Tracking interfaces 
Evaluations of intelligent user interfaces 
Perception, presence, virtual embodiment, and cognition 
Tangible interfaces 
User Modelling for Intelligent Interfaces 
User-Adaptive interaction and personalization 
UX Design and Usability 
Communication (COMM)
Connected Machines 
Networking 
Wireless/ Mobile Communication 
Communication Signal Processing 
Satellite Communication 
5G Networks 
Mobile Ad hoc Networks 
Optical Communication 
Wireless Sensor Networks 
Network Security Intrusion Detection 
Large Scale Security Data Visualization 
Important Dates
Call for papers: October 01, 2021.
Paper Submission Deadline: December 15, 2021. December 31, 2021.
Acceptance of papers/Author's Notification: February 5, 2022.
Camera Ready Submission: February 20, 2022.
Registration Deadlines:
Early Registration (discounted) – February 10, 2022 to February 20, 2022
Regular Registration deadline – February 28, 2022
Conference Date:

March 10 – 12, 2022.
International Advisory Committee
National Advisory Committee
Technical Program Committee (TPC)
ICCA 2022 Organizing Committee

Conference Venue
American International University-Bangladesh (AIUB)
408/1, Kuratoli, Khilkhet, Dhaka 1229, Bangladesh
408/1, Kuratoli, Khilkhet, Dhaka 1229, Bangladesh
Conference Venue, Reaching to AIUB Campus: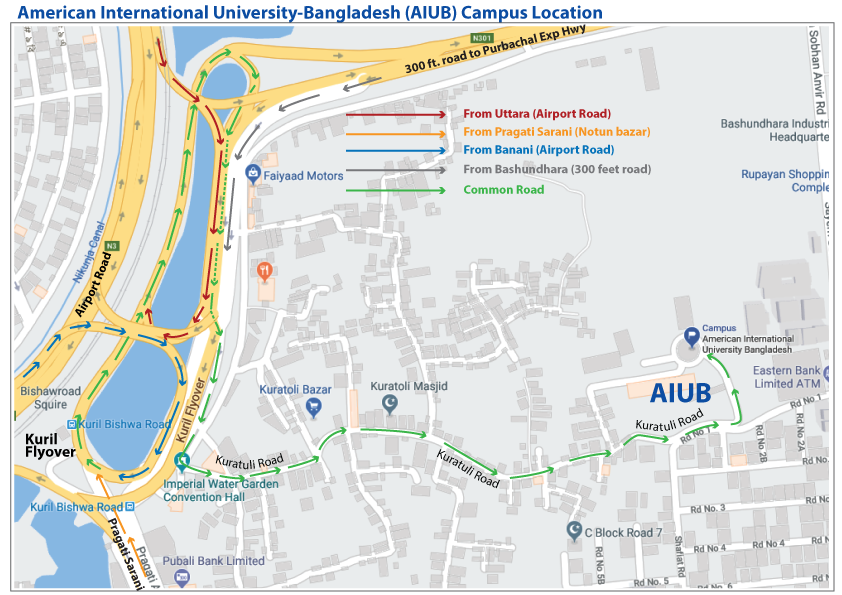 Accommodation

Nearby Hotels:
Raddison Blu/ Dhaka Regency/ Le Meridian